Wishes Granted
McKenzy's Wish To Have... A Shopping Spree!
McKenzy is an adorable and energetic little girl who has Sickle Cell Disease. Like most girl's, McKenzy loves shopping. She loves window shopping, trying on new clothes and coming back home with bags full of new and exciting stuff.
So for her wish, she wanted more than anything to do her favourite sport, after basketball, …shopping! On wish day a limo came to pick up McKenzy and her family and brought them to Place d'Orleans shopping mall where everyone was waiting for her. As she got through the sliding doors, she saw a big booth that was there just for her with lots of balloons, two big couches and all kinds of loot! She didn't waste any time opening her gifts. She received a bunk bed, a laptop and a Play Station 4.
Let the shopping spree begin! Everywhere she would go people would be waiting for her with a surprise. She took no time filling the big valet cart with all her goodies and purchases. McKenzy finished her day at her favourite restaurant, Lone Star Texas Grill, where the staff had prepared her an amazing Skittles cake and helped make her wish day complete.
When McKenzy was asked on a scale of 1 to 10, how would you describe your day? She smiled and joyfully answered "20+++!" Thank you so much to the Make a Wish team, Mckenzy had the time of her life and she will always remember this moment!
A big thank you goes out to Place d'Orleans for their amazing contribution and to all the individual stores that welcomed McKenzy and helped her fill her cart. These incredible stores are, Yves Rocher, Aeropostale, Claire's, Garage, Justice, Laura Secord, Cinnabon, Mrs. Tiggy Winkles, Sportchek, The Children's Place, Tommy Hilfiger, Urban Planet and Target.
A big thank you to Make-A-Wish Easten Ontario and Tysen's Mission to a Million for making McKenzy's Wish come true!!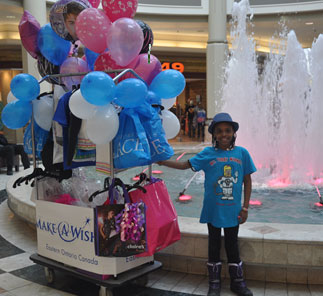 TOTAL RAISED SO FAR
Newest Teammate
# Teammates
Follow Me