Wishes Granted
Cohan, 11, Epithelioid hemangioendothelioma
I Wish To Have... An ADAM SANDLER themed gaming bedroom!!!
Here's what wish grantor, Annie had to say about Cohan's wish:
Cohan's family had shown Tysen website to Cohan. I think Tysen inspired Cohan's wish! We will try to invite Cohan to an event at some point so the boys can meet. His favourite actor is Adam Sandler and his favourite food poutine…they might be twins?! lol
Cohan is an 11 year old boy suffering with epithelioid hemangioendothelioma. Cohan's wish was to have a Adam Sandler themed gaming bedroom.
We arrived early yesterday morning to begin the transformation. The room had been painted by Moe Saab in Cohan's favourite colours. One look at the room and his favourite colours is pretty obvious…red and black. When we met with Cohan he mentioned he loved gaming and watching Adam Sandler movies. His wish was to have a bedroom where he could go hangout watch movies, youtube and game. His wish was our command! At 11am Cohan had another surprise. A big white stretched limo can to pick him up to bring him to bring him to his favourite store. Once we arrived at EB games we told Cohan that he could do a shopping spree and pick out his favourite game for his new PS4. The look on his face was priceless. He had to hold on to shelf because he thought he might faint hearing this exciting news! Let the shopping spree begin! After the shopping spree the manager from EB Game also surprised him with a loot bag filled with games, posters, collectible pins and much more.
Off we went for lunch for some well-deserved poutine. Cohan was very excited to go back home and check out his room!
After many hours of intense labour the Dymon crew helped transformed the room into the perfect gamer's bedroom. There were splashes of red everywhere, a popcorn machine, a library of Adam Sandler movies, many video games, a full electronic system including a PS4 and tons more!
I must say that Cohan had the best reaction I have ever seen at a room makeover. He walked in put his hands on his head and said "Is this heaven…this can't be real!" He would look at a few things grab his head again and say "is this real!"
This is what I call a perfect Wish Day!
Special Thank you to Tysen's Mission for Adopting Cohan's wish!
Annie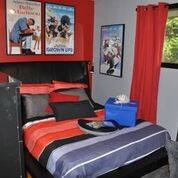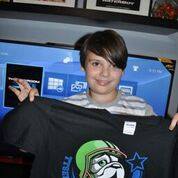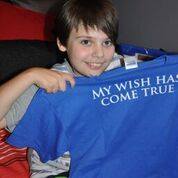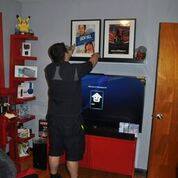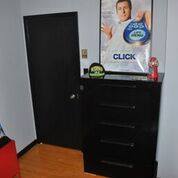 TOTAL RAISED SO FAR
Newest Teammate
# Teammates
Follow Me