Wishes Granted
Brandon, 13, Hodgkins Lymphoma.
I Wish To Go... To Disney World®
"Our son, Brandon, was diagnosed with Hodgkins Lymphoma cancer last year. After months of treatment he learned that his wish to go to Legoland & other theme parks in Florida was granted by the Eastern Ontario Make-A-Wish organization. His wish reveal included the Games to Go truck coming out to our home, which let the boys have a great afternoon of video games and fun.
On May 17th we were picked up in a stretch limousine at 4:30am to take us to the Ottawa Airport. When we arrived a West Jet representative came out to greet us and take pictures. Our rep helped us get through the airport and security areas, expediting the whole process. Our family was able to board the plane early and West Jet had another special surprise – they let each of our boys see the cockpit and the plane controls.
Our first flight was to Toronto. When we arrive another West Jet agent met us and helped us to get our luggage and go through U.S. customs and security. We were able to by-pass the lengthy lines, which really helped a lot. The boys were offered to meet the crew and check out the cockpit again and they even made a special announcement that Brandon was on board as a result of Make-A-Wish.
When we landed in Orlando we made our way off the plane and onto the tram. When we got to the other part of the airport our Give Kids the World greeter was there with a special sign welcoming Brandon and our family. With his help we were able to get our luggage and rental car quickly and had excellent directions to the village.
Seeing Give Kids the World Village for the first time was a lot of fun. It looked even better than the photos that we had seen on their website. Our check-in was quick and we had our photo taken in front of our new home for the week. There were so many activities in the Village it is hard to leave there to visit the theme parks. We went to the Candyland party on Sunday evening and had a lot of fun.
On Monday May 18th we went to visit Legoland. Brandon's special button allowed us to have immediate access to the rides and 4D movies. The whole park was an amazing place to visit, especially Miniland USA, which has the most detailed Lego buildings and characters that you would ever see. Of course the boys all picked out some new Lego sets in the gift shop too.
After a full day of fun at Legoland we returned to Give Kids the World and participated in the Halloween party. Who knew that you could trick-or-treat in May? The boys received more candy and treats then they ever do when they go out in October. The wonderful volunteers at Give Kids the World were dressed in costumes and had a lot of crafts and games to go along with the trick-or-treating.
On Tuesday May 19th we headed to Seaworld. Make-A-Wish arranged for Brandon to have a behind the scenes penguin tour. Penguins are Brandon's favourite animals. He always brought several stuffed penguins with him to all of his hospital stays at CHEO, so when we found out that he could meet one in person it was another dream come true for Brandon.
Our Give Kids the World button gave everyone instant access to the rides. They loved going on the Manta and Kracken roller coasters the most. There were so many animals to see throughout the park, both inside and out. We were given the best seats to see the Pets Ahoy show. It is the most amazing show with dogs, cats, and even pigs and a skunk, performing their routines. After the show and some rides we met the penguin keeper for Brandon's tour. He took us through the back area of the park where they put up a special sign on the door to welcome Brandon and our family.
We entered the penguin enclosure and it was cold (32F-36F, or freezing), which wasn't that bad too us considering how hot it was outside. The keeper got a large king penguin named Pearl to come out for everyone to see and touch. They are so soft. Despite the long beak, the penguin was very friendly and gentle. The keeper also got a rockhopper penguin to show us as well. After our visit we went back inside and the keeper explained a lot about penguins and what part of the world their penguins would normally be found in. We saw a bunch of penguin eggs as well.
After our tour we fed some very hungry sea lions some fish and then went to see Clyde and Seamore's Sea Lion High show. They put us right up front, which did have a warning that you could get wet. Brandon and I (Michelle) got really wet, but it actually felt good because of the heat. The show was fantastic. They are all such amazing animals.
Back at Give Kids the World we had dinner, went to Mayor Clayton's surprise birthday party, and went swimming. There are two pools at GKTW. There was Audrey's pool, which was a smaller pool that was very close to our villa, and the Park of Dreams pool, which was large and had a splash pad too.
On Wednesday May 20th we spent the morning at Give Kids the World. The boys were able to ride horses at Keaton's Corral and enjoyed some fishing down at the fishing hut. We are convinced that those fish have been caught too many times to bite though. Afterwards we decided to go to Disney's Magic Kingdom. The boys enjoyed riding the monorail to get into the park. Once we arrived a parade began and it was exciting to see the park. Our special Genie pass allowed us to access the Fast Pass line for rides and allowed us to get character photos too. We went on all the rides and saw the shows. It was another fun-filled day. When we got back to our villa later that evening and it was nice to be able to order pizza right to our door.
On Thursday May 21st we went to Disney's Animal Kingdom. Right away there were beautiful animals to see and lots of fun for the whole family. We worked our way up to the Africa area and enjoyed going on a safari ride. We were seated in an excellent place to see the Lion King show, which was amazing. Everyone loved it. After the show we went on more rides and just enjoyed each area of the park. We were given great seats to Finding Nemo the Musical, which was another amazing show. They were both so good it was hard to say if you liked one better than the other. We finished our great day in the dinosaur area on more rides and we got a ton of character photos.
Thursday evening at Give Kids the World was Christmas. The boys got to see Santa and each received a Christmas gift. When we waited for Santa in the Gallery of Hope it was very interesting and moving to read about the significance of each of the venues in the park and the child that they were named after. Every great experience at Give Kids the World is a result of their wonderful staff and volunteers. It's almost unbelievable that they have so many people willing to give their own time to make Give Kids the World such a magical place for families.
On Friday May 22nd we decided to go to Disney's Hollywood Studios, followed by Epcot. Hollywood Studios happened to be having Star Wars weekends, which is one of the things that our boys love, so it worked out perfectly. We got a ton of character photos throughout the park and enjoyed Star Wars rides. The boys all made light sabres in the gift shop too, including two Darth Maul double ones that are nearly 5' across! Thankfully they come apart.
We were given VIP seats to the Indian Jones Stunt Spectacular show. It was amazing to see and the boys loved it. Having learned from our past days at the other Disney parks I was able to reserve us seats at a nice Italian restaurant for lunch. It was fun to have someone serve us for a change instead of trying to find a table and food that everyone would eat. After lunch we went on more rides and had more photos taken. We decided to take the boat over to Epcot. The boat ride was really hot. While it was fun to experience we were wishing we had taken the bus.
The boat dropped us off in the United Kingdom section of Epcot. It worked out well because we were able to walk through that to Canada, and then to the main part of Epcot (the big golf ball), so the boys could go on some more rides and just see a small part of another park. We took the shuttle bus back to Hollywood Studios and went back into the park to get custom mouse ears made for Brandon and Ryan, and Eric had already picked out R2D2 ears earlier in the day. Afterwards we went back to GKTW for the rest of the evening.
On Saturday morning we went to Universal Orlando and Universal Islands of Adventure. These parks are more like one big park, so going to both was okay. It is not like the Disney parks that are spaced apart and have separate parking, etc. We started on the Island side since it had all the Marvel themed rides and characters. Brandon, Eric, and Ryan had a lot of fun going on the more daring and wild roller coasters. We were able to get a lot of character photos too. When we came up to where Cyclops was he was actually leaving on his break, but when he saw Brandon's Make-A-Wish hat he said that he would do a quick photo with us.
That was the theme of things for us, people going out of their way to make this trip a memorable, once in a lifetime experience. After a full day of wet and wild rides at Universal we went back to Give Kids the World and had fun in the big pool and splash pad during their Saturday night beach bash. We enjoyed ice cream treats at the ice cream palace too. When we returned to our villa Randy and I realized that we had a lot of stuff to bring back. I had brought another suitcase but the boys neglected to tell me that the zipper was broken on one side, so Randy went to Walmart at 11:45pm to buy some more bags. We went down with 3 checked bags and ended up coming home with 6 due to all the gifts, souvenirs, toys, and treats.
Sunday morning was our last day at Give Kids the World Village. The boys played a round of mini golf at the Dinoputt and they had fun picking out things in the gift shop. We received our package of photos and we went back to the airport.
When we arrived in Ottawa another West Jet rep met us there and said she knew that we would make it. Our limo driver was there with a nice sign, welcoming us home from our busy week away. Thankfully our luggage made it back to Ottawa as well. We were so happy to have such an awesome trip. The experience is something we will never forget. The boys have not stopped talking about our trip and keep asking when we're going to go back.
Special Thanks To:
Make-A-Wish
Our family really had more than one wish granted. We were given the most amazing opportunity that included everything we could possibly need, including spending money, and even the extra arrangement for Brandon's penguin meeting. "
Michelle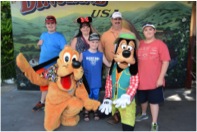 TOTAL RAISED SO FAR
Newest Teammate
# Teammates
Follow Me