Wishes Granted
Santosh's Wish I Wish To Go... To Disney World®
Santosh is an 11 year old boy who has a severe renal condition. Santosh has such a gentle and kind soul! He loves reading Robert Much books, playing hide and seek and spending time with his family! A lot of Santosh's friends had been to Disney and brought him back some souvenir. His most desired wish was to experience Disney for himself.
On December 27th, 2014 we made Santosh's wish come true!
The magic began on that morning. A limousine came to whisk him always to sunny Florida. Upon his arrival he was greeted by Give Kids the World volunteers who brought the family to the village. That's where Santosh had the best time of his life. He could not decide what he preferred during his trip from the village, parks, beach his favourites list was very extensive!
"Thank you so very much for making this wish come true for Santosh and his family.... We had a magical week in GKTW village and Santosh enjoyed it the most. The weather was so very perfect. Thank you and your team once again for all the gifts and a cherished and memorable vacation for us!" Said mom and dad
Thank you Make-A-Wish, Give Kids the World, WestJet and Sony and Special thank you Tysen's Mission to a Million who adopted Santosh's wish. Together we made this little guys wish come true!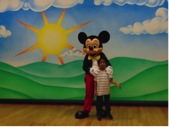 TOTAL RAISED SO FAR
Newest Teammate
# Teammates
Follow Me