Wishes Granted
Tysen's 1st Wish - GRANTED!!!
My first wish recipient, Tyler!
"I wish to have...an artificial sledge hockey rink in my basement!"
I went to meet Tyler to reveal his wish to have a practice rink in his basement, he was so excited to finally get to go downstairs to see it!
We were so lucky to have TWO members of Team Canada's men's sledge hockey Olympic team join us. Ben Delany, the youngest member of Team Canada, and Mark Dorion also a member of Team Canada since 2006 when he won a gold medal in Torino. Mark and Ben won bronze medals for Canada this year in Sochi!
What an awesome day! One down... 99 to go!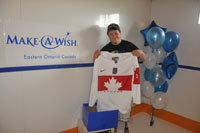 TOTAL RAISED SO FAR
Newest Teammate
# Teammates
Follow Me